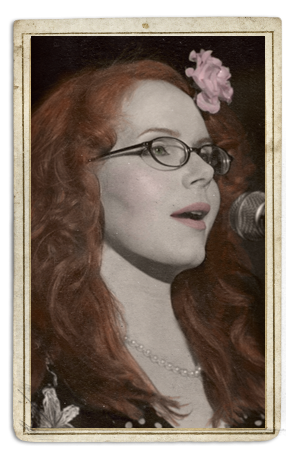 < Photo by Greg King
The Annual Patsy Cline Birthday Show!
Every year Heather organizes, hosts and performs at this spectacular event celebrating the music of Patsy Cline.
Past performers have included Russell deCarle of Prairie Oyster, Paul Reddick, Terra Hazelton, Oh Susanna, Treasa Levasseur, Alex Pangman, Big Rude Jake, to name but a few...
This year's 6th Annual Patsy Cline Birthday Show is not to be missed! It takes place on Thursday Sept 8th at the Lula Lounge in Toronto.
The performers will be backed once again by the stellar backing band of Steve 'Bebop Cowboys" Briggs, Dennis Pendrith (Vinyl Cafe) on upright bass, Nichol Robertson on guitar, James Gray (formerly of Blue Rodeo) on piano and Cam Giroux (By Divine Right, Luther Wright) on drums.
Special guests for this year's show include:

Danny Marks
Kathryn Rose
Russell deCarle (Prairie Oyster)
Alex Pangman
Terra Hazelton
Lori Yates
Paul Reddick
Tara O'Connor-Dunphy (The Rizdales)
Bradley Harder (Bradley and the Bouncers)
HOTCHA!
Laura Hubert
Caitlin Hanford
Jadea Kelly
Ginger St James
Sonya Cote And guitar goddess Margaret Stowe
Rosita Stone
Lady Sarah
Ted Hawkins
Where: The Lula Lounge Toronto, 1585 Dundas Street West, (Between Dufferin and Landsdowne)
When: Thursday Sept. 8, 2011
Showtime: 8:30pm sharp. Doors at 7:30pm
Cost: $15
A portion of all proceeds goes to benefit Artscan Circle
Tickets available at the door the night of the event.
Dinner reservations guarantee seating. The Lula offers an excellent menu prepared by their in-house chef.
For dinner reservations please call (416) 588-0307
Also visit the Lula Lounge to make dinner reservations online.
Poster from past event: